Entry Doors & Patio Doors
Are you tired of painting your front door every few years? Do you want a door that will add to your home's energy-efficiency rather than detract from it? Do you want a door that will wow your visitors the moment they approach your house? If so, it's time to consider replacing your entry and/or patio doors.
Advantages of Replacing Your Doors
Improvements in design and construction of both entry and patio doors over the last few years make it a good time to consider replacing your exterior doors.
Among the advantages to replacing your doors are:
Energy Efficiency
Fiberglass entry doors add an extra layer of insulation between the elements and the inside of your house, saving you money on your energy bills. Double-pane patio doors allow you to have the beauty of large, glass doors without compromising your energy-efficiency.
Security
Today's entry doors are much stronger and stable than even doors of a decade ago. Fiberglass entry doors offer the look of wood while being much sturdier. Double-pane patio doors offer increased security and are resistant to wind and weather.
Low Maintenance
Today's vinyl and fiberglass doors are virtually maintenance-free. They don't require painting like wooden doors and are designed to withstand the elements without chipping or cracking.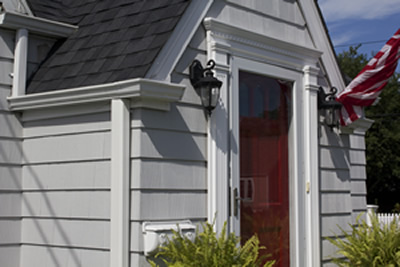 Replacement Doors and Berkeley Exteriors
Are you considering replacing your entry or patio doors? Are you confused about which type of door is right for your home? Let Berkeley Exteriors guide you through the myriad of choices so that you choose doors that you'll be happy with for years and year to come. We have nearly 20 years experience in helping southern Connecticut homeowners beautify and secure the outside of their homes. We're a locally-owned, locally-managed company, not just a seasonal contractor that's here one day and gone the next.
When you're ready to get started choosing new doors for your home, give us a call at 203 877-4373 to set us a free consultation. We want to work with you.