What's that on the Ceilin? Is it a shadow? Was that there before? If the answer is no, you probably have a roof leak. It's only one small spot so you rationalize it as a fluke and forget about it. The fact is even a small leak over a short amount of time can cause big problems.
The consequences of inaction can be more damaging to your home than you think. If the water continues and seeps its way down from your attic it leaves a path destruction. Mold and mildew thrive in the moist joists, insulation and drywall.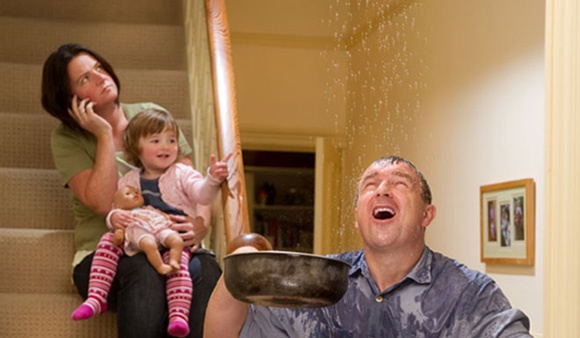 First things first. Clear away anything beneath the leak. Find the center of the water stain and place a bucket at the ready. Take a screwdriver and plunge it through the center of the spot. The hole will allow water to drain out and relieve the pressure on the ceiling.
Roof leaks can be caused by any number of issues. Missing shingles, loose flashing and skylights. If you have access to your attic you may be able to trace the source but it's often tricky to do. The best way to assess the problem is to physically inspect the roof…on the roof. If you get skittish hanging holiday light displays you may want to call in a pro. Professional roofers spent their days walking the shingles. A keen eye accustomed to solving the riddle of a roof leak.
If a roof presents with leaks – probably time to think about a new one. Today's roofing systems such as CertainTeed or GAF offer quality products with exceptional warranties. A new roof will not only keep your home dry but improve its energy efficiency. A solid investment that is sure to increase the value of your home.