With Thanksgiving this Thursday many are dragging the bins out of the garage to get set for the celebrations of the season. Exterior illumination is a big part of the festivities for most – the colorful lights welcome friends and family for feasts and fun. For the weekend warriors out there – caution is advised. Ladders are not for the faint of heart; caution is key. Emergency rooms fill with homeowners who were merely bedazzling their homes for the holidays. 12,000 of them – according to the Consumer Product Safety Commission.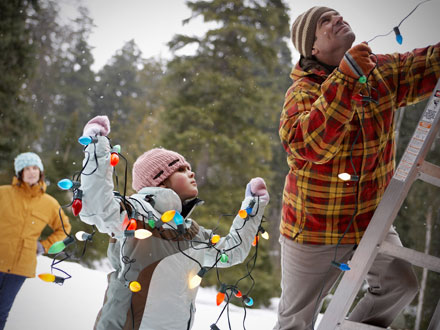 The Buddy System:
Always have a spotter. Footing a ladder may not seem like much but it makes all the difference. Even professionals who hop onto roofs for a living know the value of a steady ladder. A shift of weight, reaching to the hook on the corner of the house can cause calamity. Someone footing the base of a ladder can counteract the shift to keep the top man from toppling. A third person to have the lights and extension cords prepped and ready to hand up to the installer reduces the ups and downs, therefore reducing risk.
Hooks & Lines
Many will reach for the staple gun to secure their magnificent display…ala Clark Griswold. A quick fix to be sure but you are unlikely to remove them all after the season has past. Staples will rust and effect the siding and trim on your home. Simple hooks can easily screw in and stay season to season, plastic gutter clips are a no brainer, both can make installing your spectacular displays a snap. Using line – fishing or other can assist in moving your lights up to where you need them. Tossing an ungainly string of twinkles up to someone on a ladder, causing them to reach quickly can be a recipe for a holiday to forget.
While you may not have a professional harness, a vertical lifeline is an option. The idea is to use a heavy line (nylon preferably), secure it to something heavy – like a car or truck, then throw it over the house to where you'll be working. Secure the line onto yourself – not hi tech but it can reduce your risk of returning rapidly to the Earth.
Stay Grounded
Be sure to use a GFI (Ground Fault Interrupter) rated outlet. Rain, snow and electricity do not mix…especially when your hand is on the wire. Test your lights BEFORE you put them up. Not having them illuminated while you're handling them makes sense. Wait until you're on the ground to light up the light.
Remember, (although it may be hard at times) the holiday season is about family and friends. Make sure to take precautions as you prepare so you can be part of the festivities…and if your in-laws are visiting, also remember not to start "celebrating" (no matter how annoying they may be) until your high-flying decorating is complete.
The last thing you need to hear from you in-laws is…I told you so!