Synthetic decking has been around for nearly 30 years. The evolution of this revolutionary product has made it the go-to material. Yet – not all composites are the same. Azek is now the gold standard for decking and it is easy to see why.
Back in the day there was some trial and error. Companies trying to make headway in the new market created some not so good products. After many faded out colors, splintering and cupped boards, many manufacturers have fallen by the wayside.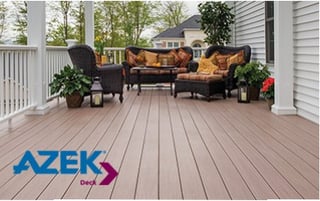 Today's composites are exceptional. Many looking so like wood you need to be up close to be sure. The variety of colors, grains and styles are vast and expanding choices for homeowners. Azek offers versatility that will fit any style of home. Railing options such as modern clear panels offer an unobstructed view into your yard. Trims that can fit right in with your colonial. Mouldings can enhance a simple ranch.
Lighting your deck has never been easier. Azek products offer lighting built into posts, steps and decking. A seamless scene upon which to entertain or sit back and relax.
As if all that isn't enough – here's the best part. Low maintenance! No painting, staining, or sanding! What could be better? The investment in composite decking can increase the value of your home…outdoor living space. The color you choose will be the color you see 10 years from now. Composite decking – the only way to go.