It won't be long until a fall ritual begins – cleaning your gutters. The death defying act of clearing the crud from your gutters can be a thing of the past – with Leaf Relief!
Gutters are an important system for your home – creating the means to move water off your roof and away from your house. Over the spring and summer months all sorts of twigs, leaves, turn into muck and mold.
The average rain event can dump over a thousand pounds of water on your roof – a big storm can literally create tons of pressure on your roof. Gutters alleviate the pressure by efficiently channeling the rain away.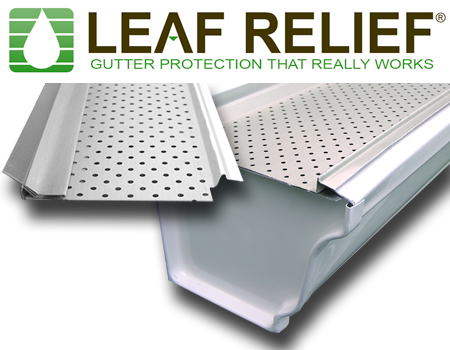 Clear gutters can make all the difference over the winter months. Clogged gutters can help create dreaded ice dams from forming. Clogged gutters can also create leaks – the buildup of gunk will force water to find another way around. Ineffective gutters channel water where it shouldn't be – and it more than likely will end up leaking into your home.
Leaf Relief offers homeowners piece of mind. A top manufacturer of gutters, their materials are maintenance free! Their patented system keeps the crud out of your gutters. Why spend your weekends clinging to a ladder? Call today to keep your home free of water intrusions and your weekends free of a treacherous chore!