Even the stalwarts in their sweaters have broken down, and the heat is now on. With the cost of energy being what it is you might want to think about where all your precious energy dollars are going. Sadly, they may be literally going out the window.
Age, is generally the biggest factor in the energy loss. Older windows offer far less in the way of insulation properties. The latest windows coming out of the factory keep comfort in mind in their design. Vinyl, insulated windows can make a dramatic difference on your energy bill. Aside from their innovations in the frame – the glass is truly the key. Most heat lost is due to the transference of heat and cold through the panes. Newer windows offer a gas buffer to reduce heat in the summer and cold in the winter. The secret is Argon gas. It has properties that regulate the climate within the two glass panes, making for a far more comfortable environment.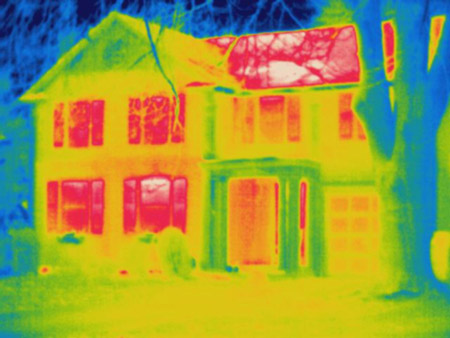 Major window manufacturers such as Simonton, Pella, Harvey, Anderson and others integrate the latest technology to help your home feel more comfortable. As you can see from the thermal imaging photo – windows are a major culprit in sending your energy dollars out the window. Vinyl replacement windows are a straightforward fix for drafty homes. They may also offer you an incentive as a tax deduction.